News
Vision 2030 Jamaica collaborates with the United Nations Resident Coordinator's Office (UN RCO) to build capacity in Results-Based Management, (September, 2021)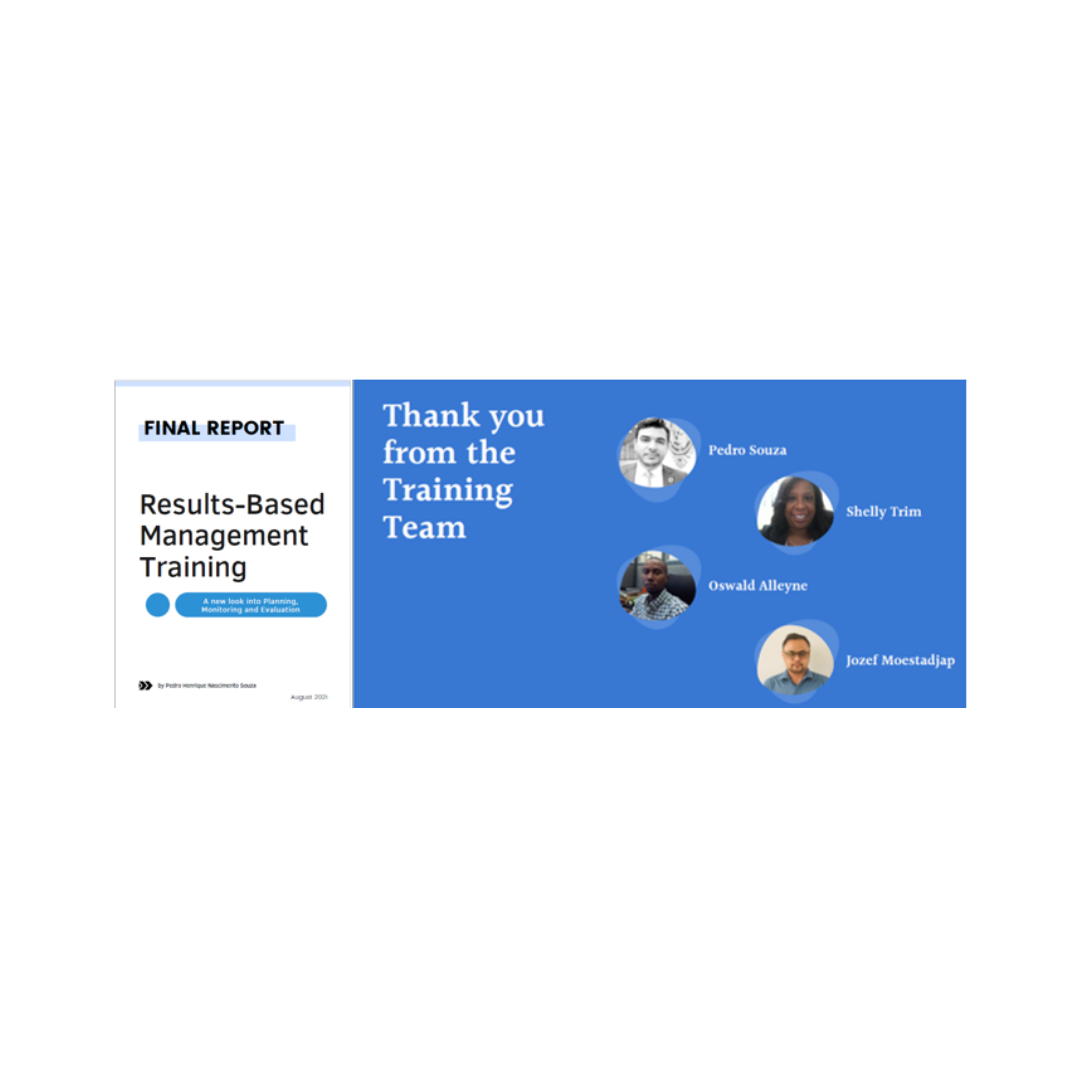 In May 2021, the Vision 2030 Jamaica Secretariat, Planning Institute of Jamaica (PIOJ) commenced discussions with the United Nations Resident Coordinator's Office (UNRCO) regarding a request for Technical Assistance in building capacity in Results-Based Management (RBM). This capacity building was geared towards supporting results-based management for the implementation of Vision 2030 Jamaica as well as the implementation of the Sustainable Development Goals (SDGs) through Vision 2030 Jamaica. The Vision 2030 Jamaica Secretariat presented the UNRCO with an outline of the required training, with focus on addressing areas critical to strengthening the Results-Based Management Framework and Plan of Vision 2030 Jamaica and the SDGs and informing the development of Medium Term Socio-Economic Policy Framework (MTF) 2021-2024. The UNRCO subsequently formed a 4-person training team and delivered a 1-week training from July 19-23, 2021 at 9:00 a.m. – 12:00 p.m. each day to 18 staff members of the PIOJ.
A critical feature of the training was its focus on distinguishing the needs of programme monitoring and evaluation (M&E), and the RBM activities associated with monitoring a long-term national development plan. Accordingly, it included focus on distinguishing measures of social/structural transformation as part of defining a results matrix, and the measurement of outputs, outcomes, and impacts. The training also included focus on the development of Performance Measurement Frameworks and appropriate indicators and targets.
The PIOJ thanks the UNRCO for its partnership in delivering the training. We thank Garry Conille, UN Resident Coordinator; Morgan Murray, Team Leader/Strategic Planner; and we extend special thanks to Shelly Trim, Data Management & Results Reporting Officer who coordinated the training process and formed part of the training team. We also express our deepest gratitude to Pedro Souza, lead trainer/facilitator as well as Oswald Alleyne (Barbados RCO) and Jozef Moestadjap (Suriname RCO), who were co-facilitators. The training delivered was relevant, engaging, participatory and technically sound. The skills and competencies acquired are being utilized in the strengthening and implementation of the results-based management framework of Vision 2030 Jamaica and the SDGs.