Electronic Dashboard and Online Monitoring Platform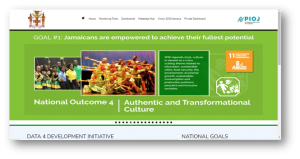 The strengthening of the Vision 2030 Jamaica Monitoring and Evaluation (M&E) System includes the development of an Online Monitoring Platform under the Planning Institute of Jamaica (PIOJ) led "Data for Development Initiative". The first phase of the development of the Platform forms part of a United Nations Development Programme (UNDP) supported project titled "Advancing the Sustainable Development Goals (SDGs) through Vision 2030 Jamaica", which commenced in 2019 Funding has been provided by the UNDP and GOJ.
The first phase of the development of the Online Monitoring Platform included the creation of an Online Monitoring/Electronic Dashboard for Vision 2030 Jamaica . The Dashboard will not include monitoring of SDGs indicators. The Platform includes an integrated "Jam Data" Database with national and local level data covering the three dimensions of sustainability—social, economic, environmental. It also includes Statistical and Monitoring Dashboards, Local Development Dashboards, an Online Resource Library and a Metadata Hub, and offers functionalities that allow for the viewing of data and statistics/monitoring of the indicators in the integrated database through the data visualiser. These are available to the public online, including via a Mobile App. Open Access is provided at no cost. The "Jam Data" Mobile App is available for download from the Google Play Store and the Apple Store.
The Online Monitoring Platform supports planning and results-based monitoring and evaluation (M&E) and is intended to increase the GOJ's capacity for integrated evidence- and results- based national development planning. It will also advance a whole-of-government approach in the establishment of monitoring and evaluation systems for national and sector development plans across the government. One of the main objectives of the Platform is to bring awareness of the use of development indicators in monitoring and evaluation to decision makers, researchers, the youth, community development organizations and the wider citizenry, among others.