Blog
Development Defined (August, 2022)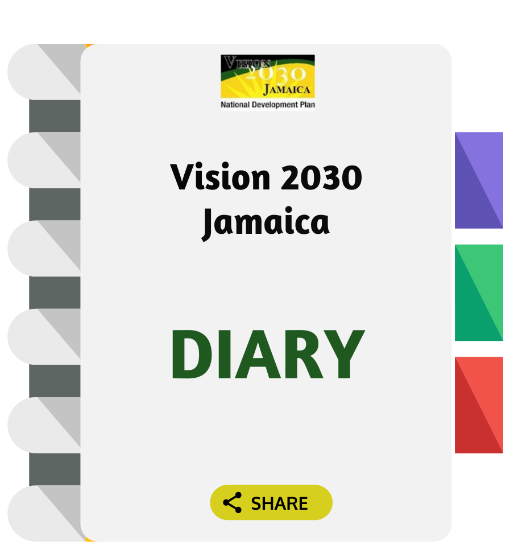 Development Defined
Key words: development; sustainable; inclusive
Under the feature "Development Defined", we will explore the definitions of key development concepts and how they are applied within the context of Vision 2030 Jamaica and the implementation of the Sustainable Development Goals (SDGs) through Vision 2030 Jamaica. The first two (2) concepts to be explored are: "Sustainable Development" and "Inclusive Development".
What are Sustainable Development and Inclusive Development "Jamaican Style"?
Vision 2030 Jamaica has seven (7) Guiding Principles that are people-centred and serve as the main tenets of the framework for sustainable and inclusive development.
Under Vision 2030 Jamaica, sustainability and inclusion are cojoined and integrated to define what type of development is desired and who will drive and benefit from that development.
Let us briefly examine how sustainable development and inclusive development are defined under Vision 2030 Jamaica and how they are reflected in Jamaica's approach to national development.
What is Sustainable Development "Jamaican Style"?
The definition of sustainable development is variable over time and aligned to a society's prevailing perspective on development as well as what the people desire and are willing to do for development. Accordingly, there is no one definition of sustainable development, but there is a common conceptualization that has informed the various iterations. Sustainable development in its various iterations refers to a development pathway— vision or idea, a plan, process, and outcomes—that is pursued towards achieving an aspired state of development while not jeopardizing the maintenance of what has been gained or the possibility for future sustained development. It is also about continuity and creating linkages across sectors and at different levels of development towards integration, coherence, and harmonization.
Sustainable development represents an evolution from the prioritization of economic development to an approach that seeks to equitably treat and integrate the three dimensions of sustainability—social, economic, and environmental development. The global consensus on pursuing a sustainable development pathway also reflects changes in the importance that societies assign to non-economic growth and development. This is a part of measuring well-being and quality of life as well as a country's relative standing in the global community.
Approaches to national development planning have been increasingly included in conversations on sustainable development. Under the SDGs, national development plans are a part of the Means of Implementation and, therefore, a recognized tool for sustainable development. Lessons learned in the implementation of Vision 2030 Jamaica include the identification of associations between long-term national development planning and improved state capacity for sustainable development. Here are a few points for consideration:
Vision 2030 Jamaica's long-term focus—21 years (2009-2030)—allows for strategic programming to address structural and institutional factors towards changing how society operates. This is because structural issues like poverty and inequality cannot be addressed with quick fixes that address symptoms and not the core problems. Addressing these issues usually requires legislative, policy, planning and programming interventions along with strengthened institutional processes to achieve the planned change. This typically has a long-term horizon which includes planning and implementing interventions , and continuously improving on what is incrementally achieved. The long-term focus also facilitates continuity in the strategic planning and implementation processes.
The integration of the three (3) dimensions of sustainability–social, economic, and environmental—as reflected in the four goals of Vision 2030 Jamaica, advances sustainable development. It represents considerations for achieving balance in what is prioritized and the inevitable trade-offs that have to be made—no dimension of sustainability is elevated above the other. The holistic approach reflected in the strategies, policies, and programmes to advance the respective goals and outcomes demonstrates appreciation for the interdependencies of the three (3) dimensions of sustainability to create an enabling environment for individuals to experience fulfilled, happy lives.
Evidence- and Results-Based Management to inform continuous improvement in national development planning–
This refers to the utilization of evidence from data, statistical and information processes, products, and services to inform all tenets of the development planning process—from conception to the scheduled end date for the achievement of planned development results. While related, evidence- and results-based management (or performance-based management) engage different strategic objectives, processes, and methodologies in supporting sustainable national development that is evidence-driven and goal-oriented. These management tools are indispensable in the toolkit for advancing sustainability and inclusion. In this issue, we will commence with discussion on results-based monitoring and evaluation (M&E). In the next issue, we will engage in broader discussion on the key tenets of evidence-based and results-based management.

Results-Based Monitoring and Evaluation (M&E) provides data on process, performance, and progress, including gaps; and includes the utilization of quality and comparable data that cover the period of plan implementation and the baseline year (2007) to, among others, monitor trends and the sustainability of gains. This allows for monitoring sustainability in development over time or in development trends. It is geared towards providing answers to the questions: Are gains maintained; Are there losses? Are there fluctuations or is there no change? It also allows for the monitoring of sustainability in the development process and outcomes—the performance of indicators also signal whether or not development is sustainable. For example, if we are advancing in economic growth and employment but experiencing slippages in environmental performance, then we will receive a signal that there are gaps in the sustainability of our economic growth as well as our environmental development. Results-based M&E also allows for the evaluation of the extent to which development strategies are advancing sustainable development.
What is inclusive development, "Jamaican style"?
Inclusive sustainable development or "leaving no one behind" encompasses a development pathway that provides equitable opportunities for all to participate in and benefit from sustainable development. Within this context, inclusive development is less about groups that enjoy greater advantage, or choosing to pull the vulnerable and marginalized along or up the "ladder of success" but more about empowerment and creating an enabling environment for each person to build capacity and work towards goals that have been operationalized to equitably benefit all. Inclusive development means that we should "help each other", partner and collaborate towards empowering each person to take charge of his/her own life and steer his/her own development. This is extended to the relationships among countries. There should be inclusion and equity in how countries are engaged in global systems, including trading and other relationships and their relative positions of power within international organizations and forums.
The global prioritization of inclusive development or "leaving no one behind" as a development principle, also reflects changes in who societies believe are worthy of the opportunities to benefit from development. It also reflects changes in attitudes and approaches to the allocation of such benefits across groups, geographic areas and the structures and institutions that provide public, and private goods and services. This change can be summarized as a shift from "some" to "all".
Inclusive Development – Vision 2030 Jamaica
The prioritization of inclusion is evident throughout Vision 2030 Jamaica – National Development Plan (NDP). Goal #1, "Jamaicans are empowered to achieve their fullest potential", gives focus to empowerment and the building and protection of human capital as the basis for individual and societal achievement of development goals. The focus on inclusion and "empowerment" is also highly evident in National Outcome #6, "Effective Governance", which gives focus to participatory development and partnerships; multi-dimensional justice, including restorative justice, rights, equality, and equity; and access to data, statistics, and information. The remaining goals and outcomes prioritize the development of enabling environments and inclusion to promote shared prosperity, social cohesion, safety and security, and equity in access to environmental goods and services, among other areas.
Inclusion is demonstrated in strategic targeting of development interventions towards development needs and the disaggregation of data by group (for example, gender and age) and related characteristics to inform targeting as well as measure the extent to which there is equity in the distribution of development opportunities and benefits. Inclusion is also a priority in multi-stakeholder engagement processes and partnerships that include a wide range of stakeholders across sectors who operate at different levels of development. This includes the multi-stakeholder Thematic Working Groups (TWGs) that serve as the main consultative mechanism for monitoring the implementation of Vision 2030 Jamaica and the SDGs; the partnership among development actors that facilitate implementation; and efforts at localization and alignment of local sustainable development planning with Vision 2030 Jamaica and the SDGs.
Closing Thoughts…For Now
The COVID-19 pandemic is an evident threat to sustainable and inclusive development. However, there are deeply entrenched challenges that span the social, economic, and environmental spheres of development, and which pre-date COVID-19 that must be addressed and are prioritized under Vision 2030 Jamaica. Jamaica's decision to follow a development path of sustainable and inclusive development creates a solid foundation for realizing the vision of making "Jamaica, the place of choice to live, work, raise families and do business."
Let us know if you would like to know more about this topic by sending us an email to vision2030jamaic@pioj.gov.jm with the subject "Vision 2030 Jamaica and Beyond – Sustainable and Inclusive Development."
Up Next: Visions 2030 Jamaica: A Challenging implementation environment, but still valid.